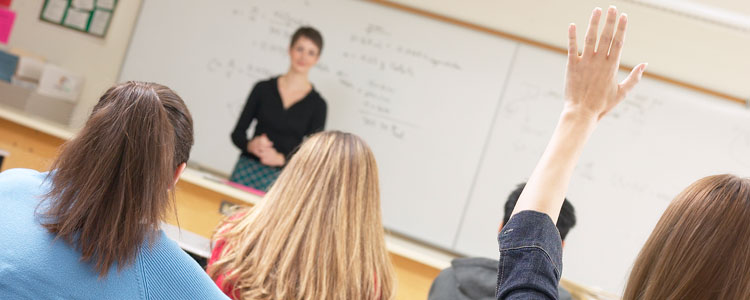 Admissions Requirements ♦ Direct Entry ♦ Educational Endorsements ♦ FAQ
♦ MAED Handbook ♦ Program Brochure ♦ Track Offerings
The Master of Arts in Education (MAED) Program helps certified professionals develop into master teachers by offering coursework leading to an array of graduate level instructional and educational services endorsements. Through the MAED program, students will strengthen content knowledge, learn new instructional strategies to meet the needs of diverse students, and develop as teacher researchers. The MAED program is accredited through The Teacher Education Accreditation Council.
The MAED program offers the following degree options:
Content, Instruction, and Assessment Track
The Content, Instruction, and Assessment track is designed to meet the needs of practicing teachers through a flexible course of study. Students take a core of pedagogy and research courses that prepare teachers to meet the needs of their 21st century students through instruction and assessment. The remaining courses emphasize furthering content knowledge and may be taken from the areas of ESL, P-3, or Special Education. Endorsements can also be earned in Bilingual/Bicultural, ESL, and P-3 as part of the Content, Instruction, and Assessment track. The flexibility of the track provides the opportunity for teachers to tailor the program to their own individual needs.
Content, Instruction, and Assessment Curriculum Worksheet
---
Principal/Supervisor Track
The Principal/Supervisor track graduate program for practicing educators leads to administrative certification in both school supervisor and principal endorsements. The program reflects current research that educational leaders must be prepared to lead schools to higher student achievement. The program is designed to develop educators into instructional leaders who:
Provide a vision for the future
Create and sustain a culture for learning and growth
Manage and align resources to provide a safe, efficient and effective organization
Collaborate with school and community stakeholders
Serve with integrity, fairness and in an ethical manner
Advocate for learners at all levels
New Jersey Department of Education Licensure Code requires three years of successful teaching and/or educational services experience for applying to the State for a Supervisor certificate and five years of successful teaching and/or educational services experience for applying to the State for a Principal certificate. The school leader candidate will have to possess a valid provisional or standard certificate and a Master's degree.
The following options are available to you in Stockton's MAED program:
- MAED Degree with Supervisor and Principal Endorsement - 36 credits
- Supervisor and Principal Endorsement for Qualified Masters Degree Holders - 30 credits
- Principal Endorsement for Supervisor Endorsement Holders -18 credits
---
Reading Specialist Track
Our Reading Specialist track leads to the New Jersey reading specialist endorsement and prepares teachers to plan literacy programs appropriate for children of differing abilities and diverse cultural backgrounds. Applicants for the track must hold a Standard certificate and have successfully completed a minimum of one year of teaching, with the understanding that two years of successful teaching must be completed before being allowed to apply for the Reading Specialist Endorsement.
Reading Specialist Curriculum Worksheet
---
Special Education Track
The Special Education track leads to a New Jersey Endorsement as a Teacher of Students with Disabilities (TOSD). Through the Special Education track students will be prepared to work with students with a wide range of disabilities. Students who already hold a TOSD certificate can use their course of study to expand their knowledge and expertise in the field of Special Education.
Special Education Curriculum Worksheet
---
The requirements for admission into the MAED program are:
An undergraduate degree from an accredited college or university.
A minimum grade point average of 2.75.
A teaching certificate (standard or certificate of eligibility with advanced Standing)
Resume
Miller Analogy Test (MAT) or Graduate Record Examination (GRE) General Test scores. (Applicants possessing a Master's Degree from an accredited college/university are exempt.)
Essay
Candidates seeking a Principal Endorsement must meet the above requirements and in addition have:
A cumulative Grade Point Average (GPA) of at least 3.00 when a GPA of 4.00 equals an A grade in a baccalaureate degree program, higher degree program or in a State-approved post-baccalaureate certification program with a minimum of 13 semester-hours.
Three (3) years of successful teaching experience under Provisional and/or Standard certificate.
Three (3) current letters of recommendation written specifically for admission to the MAED Program from current or former administrators familiar with your work who can comment on your background, experiences, capacity to succeed, etc. Employers, supervisors, superintendents, principals, or other professionals are appropriate choices; friends, family or fellow students are not.
Completion of the MAED Essay answering the following 2 questions:
In what ways do your academic background and your professional experiences provide evidence of your potential for success in the program you selected and in your eventual career? Please give specific examples of relevant coursework and/or experience.
Describe your vision of educational leadership and explain why others would want to be led by you?
---
The MAED program also offers Educational Endorsements:
ESL/Bilingual/Bicultural
Learning Disabilities Teacher/Consultant
Preschool- 3
Special Education
Supervisor
Principal
Apply today. If you have further questions, Request More Information, view Frequently Asked Questions, or please call the Graduate Admissions Office at (609) 626-3640 or E-mail gradschool@stockton.edu.
The Richard Stockton College's Master of Arts in Education Program, which is designed to help certified professionals develop into master teachers, is accredited by the Teacher Education Accreditation Council (TEAC) for a period of five years, from 2008 to 2013. This accreditation certifies that the Master of Arts in Education program has provided evidence that it adheres to TEAC's quality principles.